i-FLY ORLANDO INDOOR SKYDIVING
i-FLY ORLANDO INDOOR SKYDIVING experience creates true free fall conditions, just like skydiving, without having to jump out of an airplane. iFLY's vertical wind tunnel generates 5- 200 horse power fans that circulates and creates a wall-to-wall cushion of air, on which you safely float. There's no parachute, no jumping, and nothing attaching you to planet Earth. It's just you and the air, it's the most incredible adrenaline rush.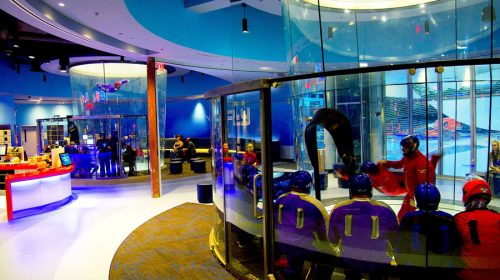 i-FLY ORLANDO INDOOR SKYDIVING
Feel The Rush!!!
iFLY Orlando Indoor Skydiving is a 12-foot, open flow, 1000 horsepower vertical wind tunnel. It is one of Orlando's top tourist destinations and a thrill of a lifetime.
No Experience Necessary, All Ages Can Fly – From 3 To 103
3 years of age or older. Participants must weigh less than 260 lbs.
iFLY ORLANDO INDOOR SKYDIVING.S first-time flyer experience will have you grinning from ear to ear the moment you step into the flight chamber and lift off. It's an incredibly safe, realistic and unique experience, fully supervised by certified instructors.
All first-time flyer packages include a comprehensive training session, equipment rental, and one-on-one assistance throughout your flight from one of our instructors.
Is it safe?
Our unique design with its wall-to-wall air column, along with our certified and highly-trained instructors, allows you to safely enjoy your flight session.
Is it scary?
Generally it is not considered scary; there is no jumping, no falling and no experience is needed. You simply float on a column of air. There is no sensation of falling or anything that would make you feel motion sickness.
Is it hard to breathe?
Not at all. It is the same as if you stick your head out a car window while driving. All you feel is a wind in your face. Just breathe normally, either through your mouth or your nose.
iFLY Orlando Indoor Skydiving
HOURS
Wednesday – Thursday: 11AM – 7PM
Friday – Sunday: 10AM – 8PM
Closed: Monday and Tuesday
Make it the Greatest Experience ever!!
Location - 8969 International Dr, Orlando, FL 32819
Attraction Information